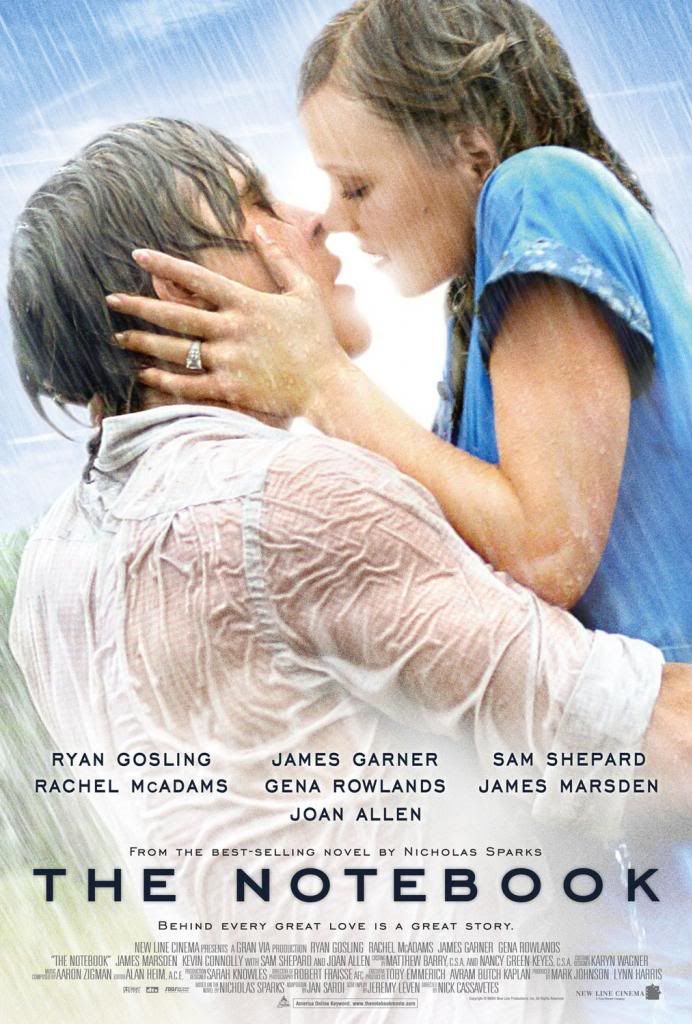 As many of us are aware "The Notebook" is one of the most acclaimed and adored "love" stories among non-Christians and Christians alike. I have heard girl after girl comment about Ryan Gosling's character Noah. How he was such a gentleman, and he really loved Allie, they hope they can meet a guy half as wonderful as Noah. I don't know much about Ryan Gosling and am not writing about him, but rather Noah. Let's start with how he and Allie met.
They were at a fair with mutual friends when they met, Noah thought Allie was pretty so he asked her out, when she declined he proceeded to harass her through the fair, going as far as to hang onto the moving Ferris wheel and saying he would let go unless she promised to go out with him.
Moving on: Once they're in a "relationship" they fight constantly, she hits him when she gets mad, and the only reason they like each other is because…. They like the way the other kisses. Now Allie's parents don't approve of Noah, they don't trust him. Why don't they trust him? Because he's keeping Allie out late. What Allie didn't tell her parents was that Noah was keeping her out late because he was trying to convince Allie to sleep with him, and she knew her parents wouldn't approve so she hid it from them. Things progress through the movie and Allie and Noah have a huge fight, she hits him again and he drives off angry with her screaming some very hateful things at him. Noah the next morning learns Allie is moving away and tries to go and make amends, but she's left already.
The movie skips ahead, Allie is helping with the war effort and meets a soldier who is in recovery. They end up going out a few times and end up in a relationship, he proposes and she accepts. Sounds good, right? Until Allie sees in a newspaper at her wedding dress fitting about an old mansion that Noah had told her he was going to fix up was for sale, he had done as he said and fixed it up. Allie decides to go and "just visit". Noah has become a drunk from heartbreak since Allie left and has been sleeping around quite a lot. When Allie comes to town he is currently sleeping with a war widow, who he quickly breaks up with as soon as Allie comes back. So skip ahead past all of their chatter and Allie, once again, starts screaming at Noah, because he never contacted her. She never seems to realize it's a two way street, he was the one who had to do the writing. Then, here is the big romantic part of the movie. Noah tells her he wrote her a letter every single day for a year! Allie quickly melts and has an affair with Noah.
Allie's mother shows up in town, not to scold her daughter and tell her to stop behaving like a child. No, to apologize for hiding all 365 letters Noah sent her. And to take her to this old work yard to show Allie the man she had fallen in love with when she was Allie's age, she tells Allie about her story, and quickly adds "But I love your father and am very happy! But you need to follow your heart and make a decision soon."
Allie chooses Noah of course, and they grow old together. The only thing that could be considered "selfless" is the fact that Noah stays with Allie when she's an old woman and has Alzheimer's. But even that can't be considered selfless can it? Not considering all he ever wanted was Allie, and she is exactly what he got.
What is it about this movie that catches so many people, makes them look at it and say "I want a love like that!"? What in it is glorifying to God? What in it is loving, selfless, caring?  All I see is one selfish act after another. One more act for oneself. And when Allie's mother should have come in and showed her that cheating on a man that had done nothing but care for her was wrong, all she did was *encourage* Allie's behavior.  True love isn't Allie and Noah, true love was Jesus dying on the cross. Love is being willing to give anything for the person you love, and being willing to do anything for God's glory. Allie and Noah had romance, not love. People don't seem to realize the difference. I don't want a love like Allie and Noah's, a man who sees me as nothing more than a piece of meat, who cares about nothing but his own desires. I want a love where Christ is at the center. I want to fall in love with someone whose heart is focused on God and then the needs of others before himself.
I'm not writing this to say anyone who watches and enjoys "The Notebook" is horrible or has no idea what real love is. I'm simply stating why I don't agree with so many about this being such a wonderful love story. Love and commitment are treated so lightly, especially when it comes to the entertainment we take in, "The Notebook" isn't the only movie I don't watch for reasons such as these I've listed. There are so many books and movies that try and "teach" people about love, but the problem is the word "Love" has been warped into something other than it's meaning.
"Love is patient and kind; love does not envy or boast; it is not arrogant or rude. It does not insist on its own way; it is not irritable or resentful;it does not rejoice at wrongdoing, but rejoices with the truth.  Love bears all things, believes all things, hopes all things, endures all things.  Love never ends. As for prophecies, they will pass away; as for tongues, they will cease; as for knowledge, it will pass away."
1 Corinthians 13: 4-8